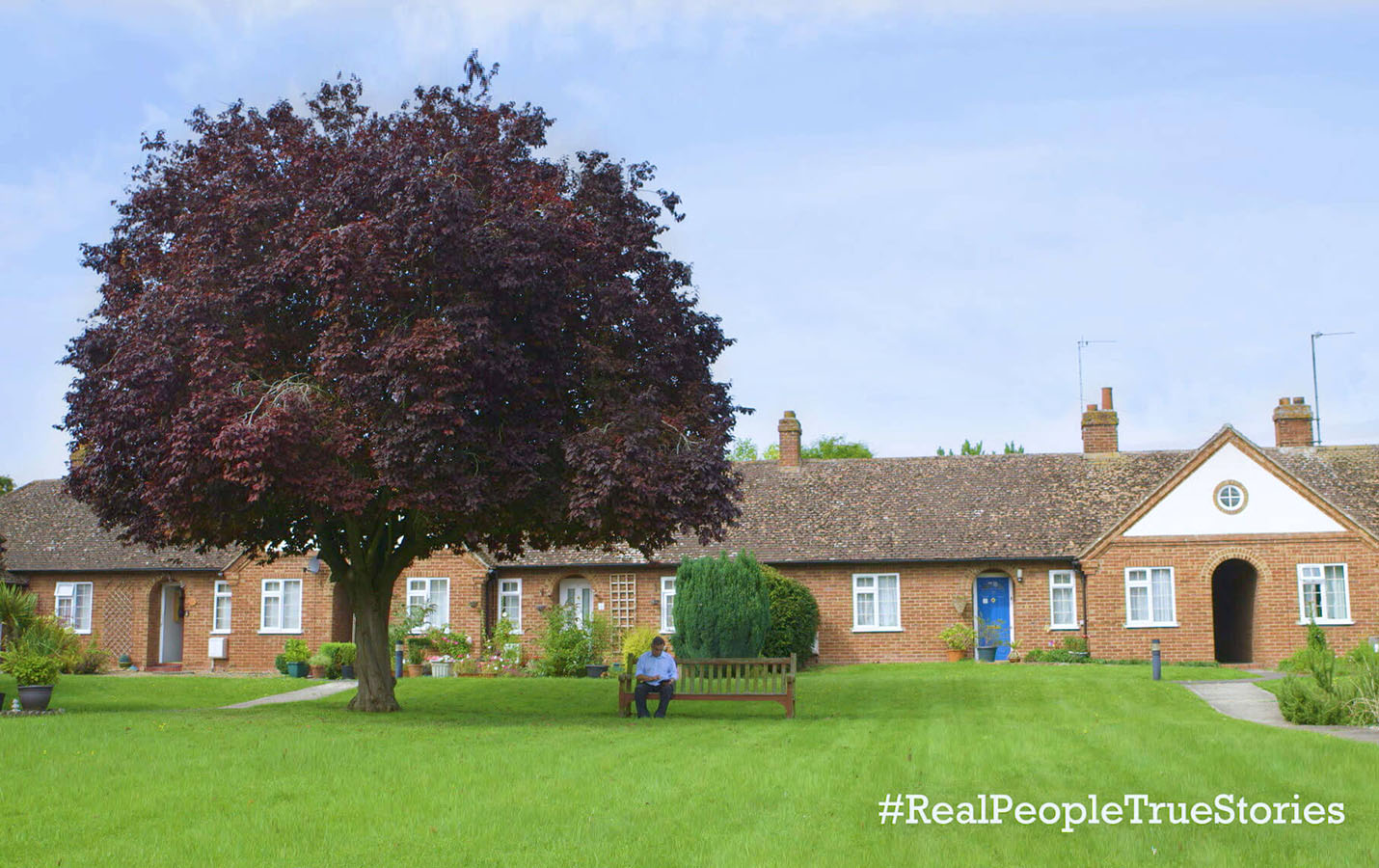 The Making of John's Story
I've been filming and editing videos for clients for over 7 years in a fast-past environment where I'm always looking forward. Now, it's time to look back!
Over the next few months, I'm going to be investing time into looking back at past videos and breaking down my processes so you can see exactly what happens when you hire DS Videos for your video projects.
This new blog series will give a behind-the-scenes look at everything – from pre-production right through to the final product – as well as all the fun stuff we get up to along the way!
John's Story – Real People True Stories Series 2
Real People True Stories is a video series about tenants living in social housing which explores how they are nothing like the stereotype seen in TV programs such as Benefits Street.
Series 1 was an outstanding success and has been nominated for a 2018 CIM Award for Best Marketing Campaign for SME's!
When I was commissioned to come back and make Series 2, I took this as an opportunity to make it bolder and brighter than before, whilst still keeping the same tone of Series 1.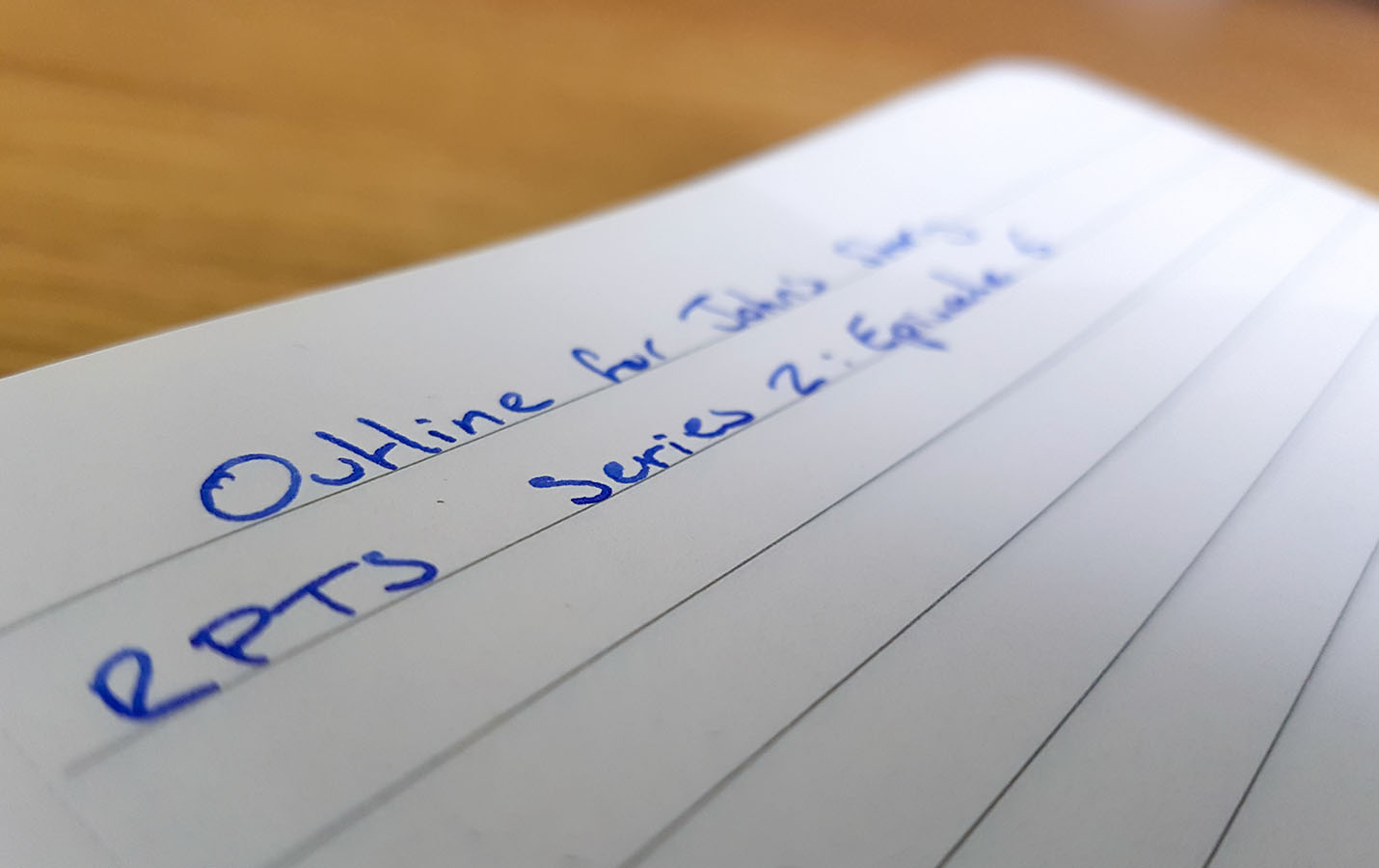 John was one of 6 tenants selected to take part because of how much he gives back to his local community. John has been training people to use computers his entire life and when he moved into his new property he discovered that many of the residents didn't know how to use their laptops, tablets and phones. When he offered his services, the local group "Tea with Technology" was created.
Preparing for the Shoot
From the offset, John was funny and welcoming and it was clear that he genuinely cares about preventing people being left out of the digital world. John has had a long career in IT and moved into social housing a few years ago.
We had a full day to film with John and prepared to shoot his interview on location at his home in the morning and then move on to the second location to join in with a "Tea with Technology" session in the afternoon.
Our deliverable was a 2 -3 minute video for release as part of the wider Real People True Stories campaign across social media to combat the stereotype of tenants in social housing.
The First Location
It was a blistering summer's day on our shoot day (but air conditioning saved the day!). John's living room was an IT Support team's dream, with computers and spare parts everywhere! It wasn't a mess though, it was all very organised and made the perfect space to film our  interview.
Like all the previous episodes in the Real People True Stories films, we opted for a single camera interview set-up with two light sources.
The first light source was a giant window. Filming in the middle of the summer is a big help and natural light is available in its abundance. I love filming interviews with natural light as it gives a relaxed and warm look to the footage.
In addition, I set up one LED panel to fill in some of the shadows and light John more evenly to avoid a harsh, contrasted look.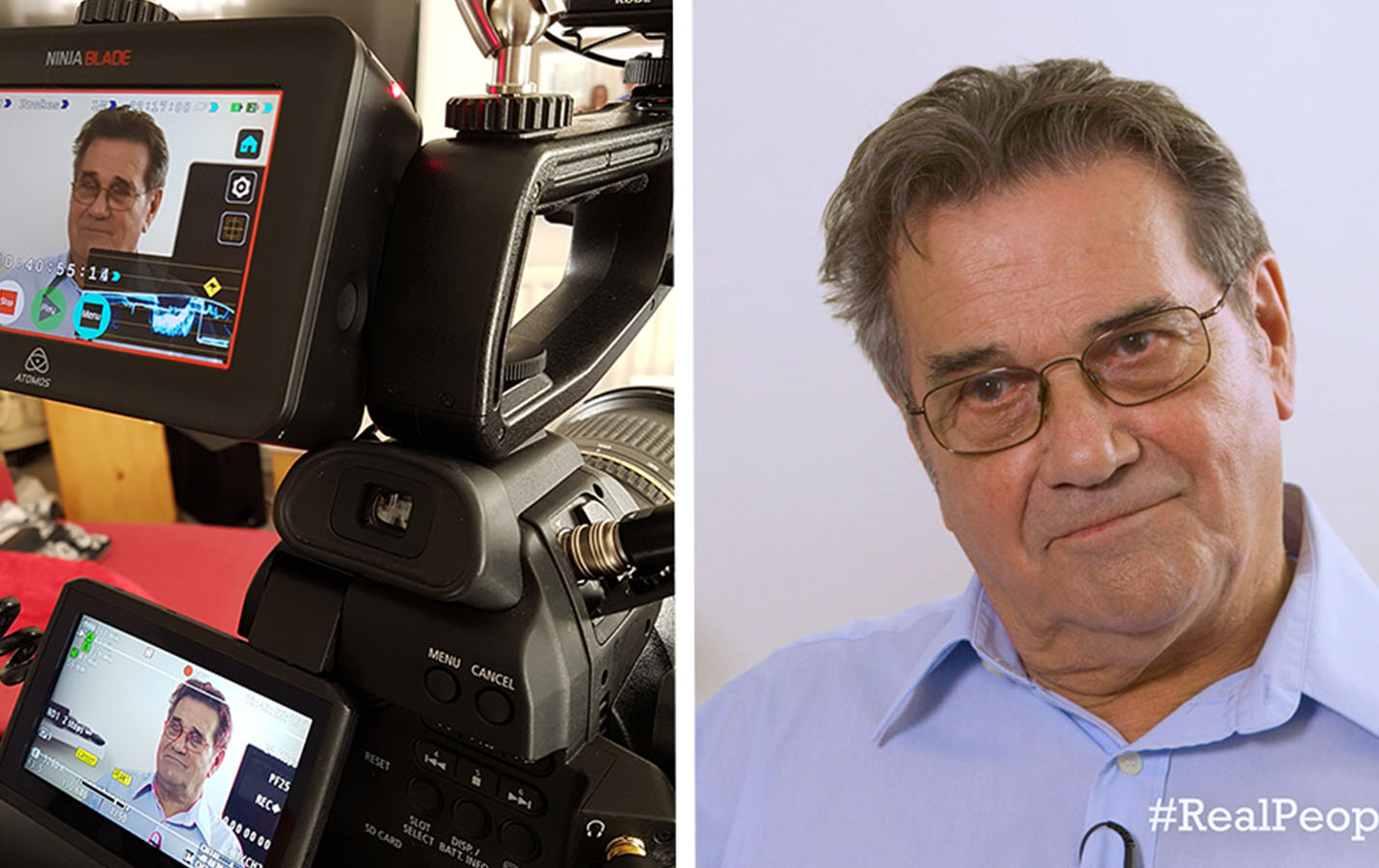 When my filming team had finished our interview with John, we started on our B-Roll. B-Roll means capturing shots of the environment in which the filming took place that is relevant to the topics being discussed in the interview. In this case, we showed John in his home running IT Support for clients.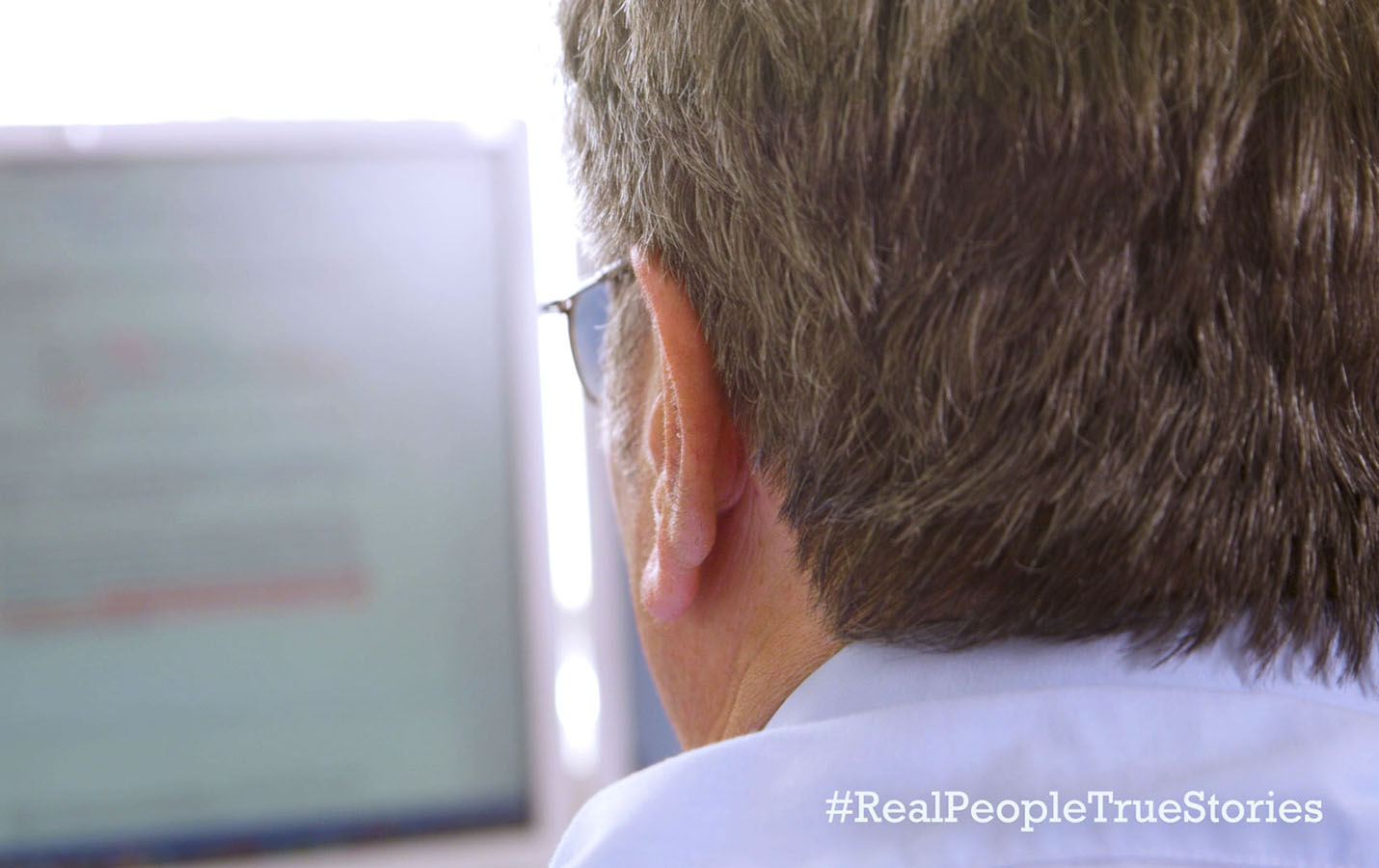 Next, we headed outside to the communal garden where John likes to unwind by reading his Kindle in the peace and quiet (but still not that far away from technology!).
The sunny (and very hot) day presented us with some glorious footage that gave us a stunningly colourful set of shots. As an added bonus, the flowers were out in full bloom which really added to the visuals.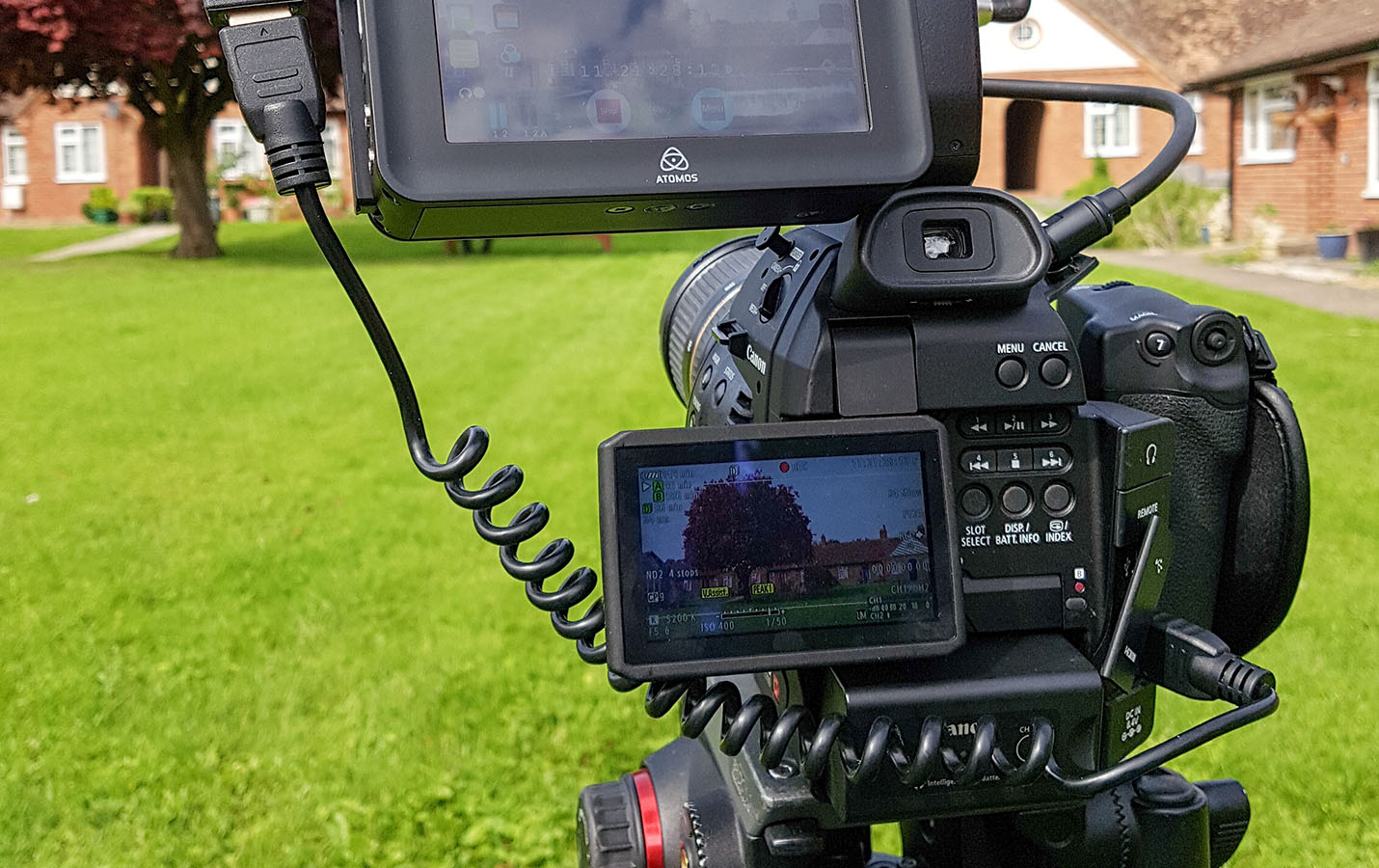 The Second Filming Location
After spending the morning at John's home, we packed up and drove about 15 minutes down the road to the "Tea with Technology" session. It was situated in a beautifully restored village hall with gorgeous high ceilings and an abundance of natural light (a cameraman's dream!)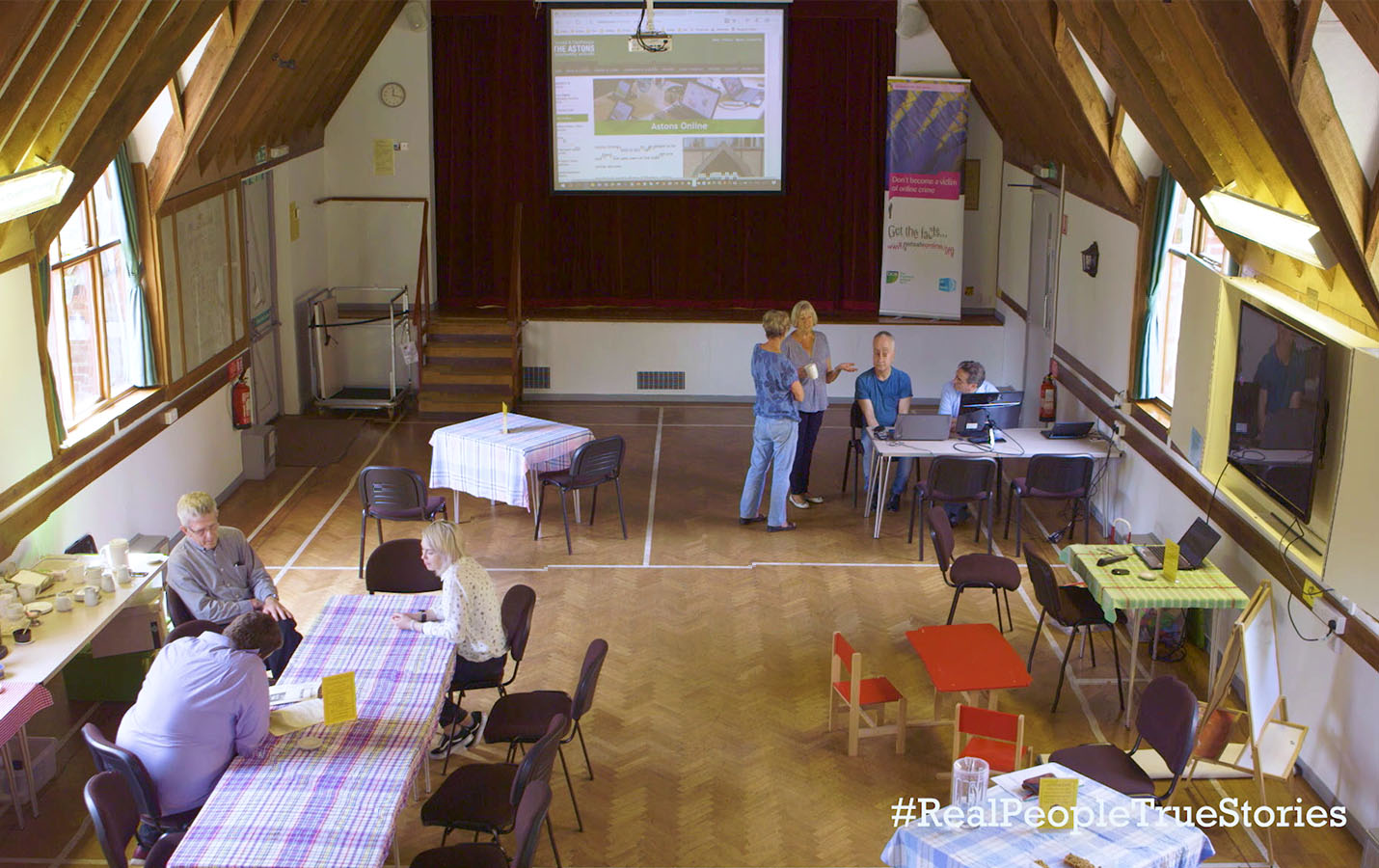 John had a few visitors throughout the session but the main person who became the focus of our next lot of B-Roll was Christian, a neighbour of John's who had got himself a new laptop and had no idea how to use it.
For the session, I had asked John to run the session as he would normally (as I absolutely hate faking a scenario) as I would get all the coverage I needed based on the answers from his interview earlier.
I brought along two large LED panels as I didn't know what the lighting would be like, but I didn't even get them out of the bags because I really didn't need them. We had a lovely soft light coming in through the windows which was lighting John's session perfectly. This gave me complete freedom to move around and get all the shots without disturbing John or his class.
The shoot went absolutely brilliantly and the homemade flapjacks we were treated to were without a doubt some of the best I've ever had! You can see them in the behind the scenes video from Series 2 which I'll link at the end of the post.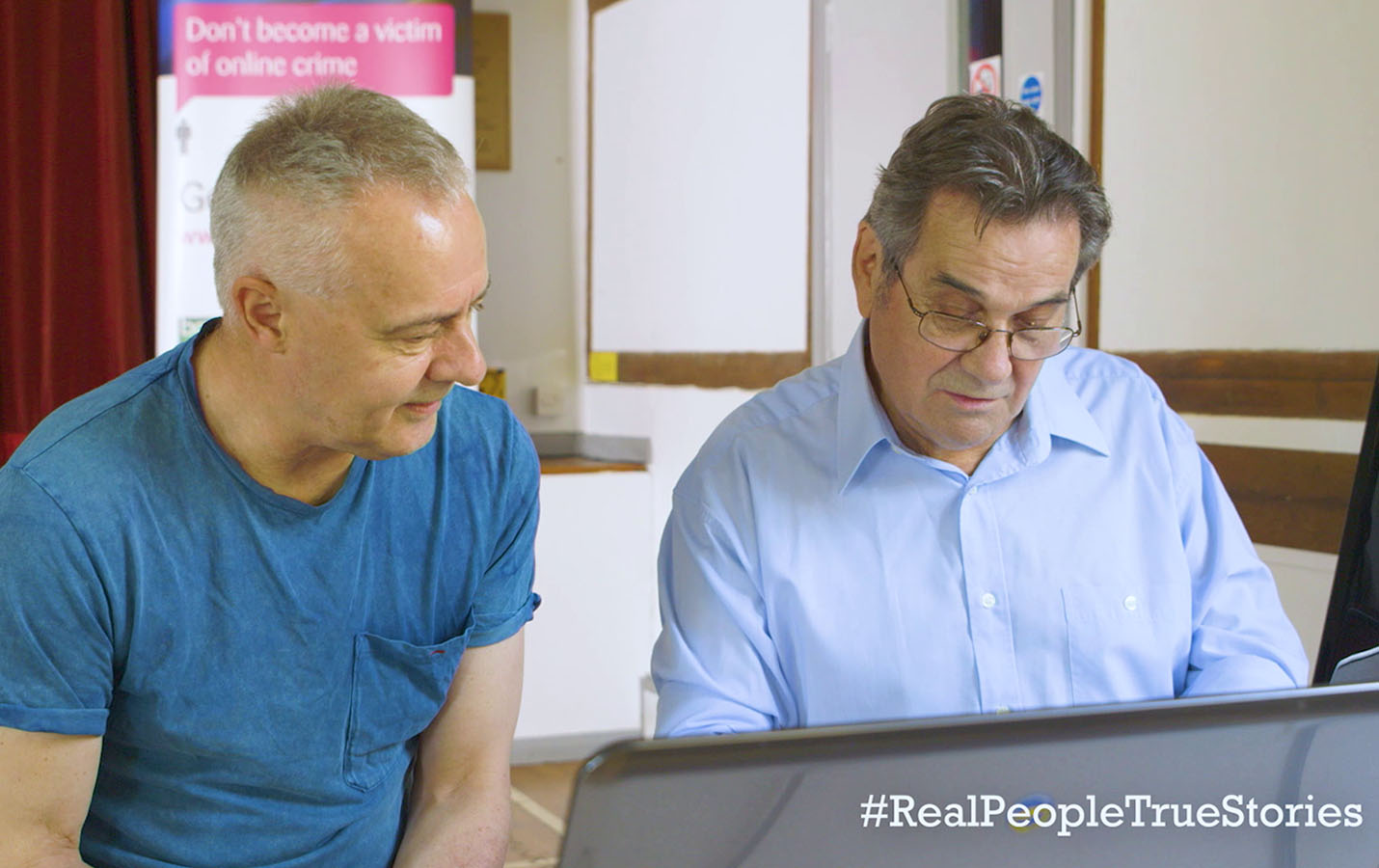 In the Edit Suite
When filming is over, there is always a sense of joy, pride and terror! I know that I've got a great story in the clips but now I have to bring it to life on screen. No matter how many videos I produce, these feelings never go away – and that's why I love my job – it's never dull!
I had just 3 weeks to turn around this video (along with the rest of Series 2 of Real People True Stories).
When editing, it all starts with the interview questions. Throughout filming, I took notes on everything John was saying so that I made sure we could cover it with B-Roll. I could do this because there was a separate interviewer with me asking the questions.
The plan for the video was to create a natural and "real" feel to it, which is why I love the colours that are captured by my Canon camera. All of the intricate detail captured by the sensor is just the icing on the cake.
Here's a preview of the timeline for the edit:

John's Story had 2 edits before being signed off by my client, and like the rest of Series 2, it was optimised for release on YouTube and Facebook with its own custom thumbnail which we took from a screenshot of one of the shots.
I always purposefully shoot a specific still image shot on filming days to use as the thumbnail, which I shoot at a slightly higher shutter speed of 1/80 second (traditionally 25 frames per second is filmed at 1/50 second shutter speed) to get a sharper image with less motion blur for the thumbnail.
Looking Back
I really enjoyed working with John and it's been fantastic to tell his story. Visually, this video is a lovely piece which reflects John's friendly and welcoming approach to helping people and it acts as the perfect bookend for RPTS Series 2.
I'm proud of all the episodes I produced for the Real People True Stories campaign and I've really enjoyed breaking down this shoot for you read about. Hopefully, this post has given you an insight into what goes on when you work with me. If nothing else, its made you want a flapjack – go on, you can admit it!
Below is John's Story and it would be great to know what you think of it so feel free to send me an email with your thoughts.
Here's an extra look at what went on behind-the-scenes of Real People True Stories Series 2 – Filmed by Paige Hudson.